Bulk Material Handling
Although most global trade travels by container, a substantial portion is handled as bulk cargo. Dry bulk cargo facilities process, store, and move a wide range of minerals, ores, agricultural goods, and forest products. Many bulk facilities run 24/7, so the material handling machinery must be heavy-duty, safe, and easy to maintain. Durable and reliable energy and data transmission systems are needed to power stacker / reclaimers, tripper conveyors, ship loaders and unloaders, radial stackers, stack racks, hoppers, and cranes, as well as processing equipment such as crushers and sizers. Electrification must be customized to the type of machine, the application, and the specific material being handled. In addition, many electrification systems must withstand dusty environments, corrosive materials, and even hazardous (explosion-proof) conditions.
Stacker & Reclaimer for storage and backfill the mined sand
Application
Stacker & Reclaimer for storage and backfill the mined sand

Country
Czech Republic

City
Hrdoňovice

Representative office
Conductix-Wampfler s.r.o. [CZ]

Operator
Sklopísek Střeleč [CZ]

Technical requirement[s]
Power supply for the Reclaimer

Travel distance [Load]
130 m

Product[s]
Motorized Cable Reel, Program 7100

Cable[s]
0632-4x16+2x(4x1,5)C

Winding length
65 m

Mounting height
2,10 m
Relevant Products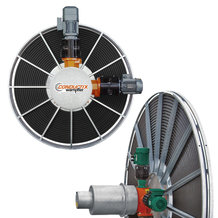 Motor Driven Reels
Heavy Load [HL] Series
Additional information
Modular assembly system - the cable reel can be upgraded after installation by adding drive units.
Magnetic Coupler Drive (MAG Drive) or Variable Frequency Drive (SMART Drive)
5 year or 15,000 hour operation before any maintenance is required - gearboxes are grease-lubricated from the factory.
Optimal corrosion protection to handle aggressive environments - flanges and reel drum are manufactured from hot dip galvanized steel or stainless steel.
Typical applications:
Ship-to-shore (STS) cranes
Rail mounted gantry (RMG) cranes
Ship unloaders
Stackers / reclaimers
Shipbuilding cranes
Product data
Specifications
Travel speed:
- AC motor with magnetic coupler (MAG drive): up to 100 m/min
- Variable frequency controlled (SMART Drive): up to 180 m/min
Winding length: 700 m max
OD of spool:
- Monospiral spool: 1,100 mm - 8,000 mm
- 3-2-3 spool: 1,100 mm - 8,000 mm
Gearbox:
- Type BNA: 1,100 Nm - 19,000 Nm
- Type X07: 1,100 Nm - 11,000 Nm
Slip ring assembly:
- Power low voltage max: 690 V - 1,600 A
- Power high voltage max: 24,000 V - 500 A
- Control max: 500 V - 25 A
- Data: fiber optic, mA
Temperature range: -40 °C - +60 °C
Downloads