Overhead Monorail System
Overhead Monorail system with Shifting Bridge in a Paint finishing system
Application
Overhead Monorail system with shifting Bridge in a Paint finishing system

Operator
Technocol, Praha, (CZ)

Customer
S.O.F. s.r.o

Product
Program 0400
Additonal information
C-Profile 40x40 mm Fivefold equipment Crane with span length L=6000 mm


Relevant Products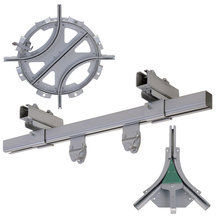 Manual - C-Rail Program
Additional information
For transport within a facility, Conductix-Wampfler's modular handling systems can provide customized transport solutions that ensure an optimum material flow. Various additional components, such as switching systems and curves, allow for the creation of complex tracks. The modular nature of the system and its simple assembly make it possible to plan and install a manual suspension track for many different applications.
Product data
Manual suspension tracks offer the following benefits:
Low investment costs
Reduced internal transport time
Reduced handling times
Increased productivity
Easier working conditions for employees
Targeted material flow
Product-based design
Easy expansion of the system at any time
Individual construction with custom set-ups
Flexible adjustment for changes in production requirements
Simple planning with a clearly laid out modular system
Manual suspension track components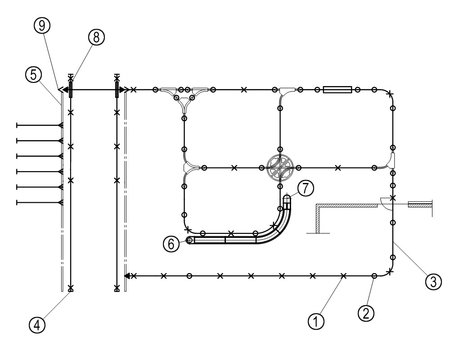 Rail carriers
Rail connectors
Track rails [fixed length of C-rails: 6m], include cut-off in calculations
End stop with a safety screw
Safety guides for keeping the transported object in place
Drag chain conveyor - drive station
Drag chain conveyor - tensioner
Interlock mounted on the crane bridge
Arrester mounted on the spurs
Downloads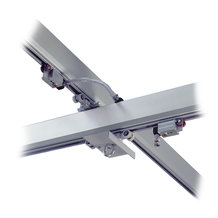 Equipment Bridges / Tool Bridges
Additional information
Conductix-Wampfler device bridges can be used to provide optimum coverage for large work areas. Various models are available in different sizes based on customer specifications. The energy supply is available with electric supply only, compressed air only or a combination of the two. The simple handling of the system is another benefit.
Energy supply options for the equipment carrier
Compressed air
Electric
Compressed air and electric
Energy supply options for the tool transporter
Compressed air
Electric
Compressed air and electric
Energy supply options for turntables
Compressed air
Electric
Compressed air and electric
Product data
Versions
Single girder device bridge with a equipment carrier
Single girder device bridge with a tool transporter
Double girder device bridge with a turntable
Double girder device bridge with a tool transporter
Downloads